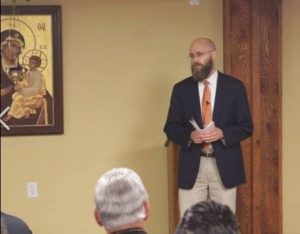 Memory eternal to the servant of God, Dr. Timothy Becker, who reposed just after noon today.
Tim was no mere supporter of the St. Basil Center, but integral to what we were doing: an inspiration to those who knew him. A gifted teacher, an excellent scholar, a compassionate man for those in need of mercy, a flame for the gospel, a devoted, steadfast friend, and example of humility, he worked closely with our students, even standing as one's godfather this past Pascha. He was a joy always to be with.
Tim was the vision and mover behind the Center's House of St. Davids, and was working on starting a ministry to the poor of Philadelphia, the Fellowship of St. John the Wonder Worker. He was to teach our course on Orthodox History and Theology this coming term. I have heard conflicting accounts on his age, but I think he was but 37. He leaves behind his wife and three young children.
In your charity, remember him and his family before God.
Click here if you would like to be a part of the Tim Becker Memorial Contributions fund.